Downloadable Flyers, Posters and Ad Copy
Donations
If anyone wants to help fund our ad campaigns, you can use the PayPal buttons above, or you can email me directly: Alec Rawls at alec@rawls.org. If anyone would prefer to pay a newspaper directly for one of our ad buys, that can also be arranged.
Tenth anniversary ad campaign: Tom Burnett Sr. and I are running a series of large color ads every day of the week leading up to the tenth anniversary of 9/11. Each ad is 2/3rds of a page in color on the back of the front section of the Somerset Daily American, below the weather map, so this is prime placement. The linked PDFs are to the actual ad copy.
Muslim consultants LIED to Park Service Tuesday, Friday and Sunday (10.52" x 14", CMYK)
The Tower of Voices is a year-round accurate Islamic prayer-time sundial Wednesday and Saturday (10.52" x 14", CMYK)
Why 38 Memorial Groves instead of 40? Thursday (10.52" x 14", CMYK)
We also ran two advertisements in July, pressing the "Who broke the circle?" question: They call the design a broken circle now instead of a crescent, but the unbroken part of the circle, what symbolically remains standing in the wake of 9/11, is just the original Crescent of Embrace? So who is being depicted by architect Paul Murdoch as breaking the circle of peace on 9/11? It can only be the terrorists, who are also depicted as leaving a giant Islamic shaped crescent in its place.
First "broken circle" ad Somerset Daily American, 7-26-11, full color full page (10.5" x 21.5")
Our Town version, also running in the Johnstown Direct (both 10.5" x 17")
Flyer section, for printing on letter size paper
Second broken circle ad: Park superintendent claims it was the passengers and crew who broke the peace on 9/11
American Daily version full color, half page (10.5 x 10.75)
Our Town version (10.5 x 8.5)
Anyone can run any of these ads in their own local paper (just send them the links and they'll download the PDFs for themselves). People might be surprised at how affordable the free weeklies can be. For instance, a 1/3 page color ad in the Silicon Valley Metro, circulation 500,000, costs $500. A third of a page is just about right for the flyer part of the first broken-circle ad, and the layout people can always scale width and height to fit the space someone is buying. Here is the flyer formatted as separate ad copy (click image for PDF):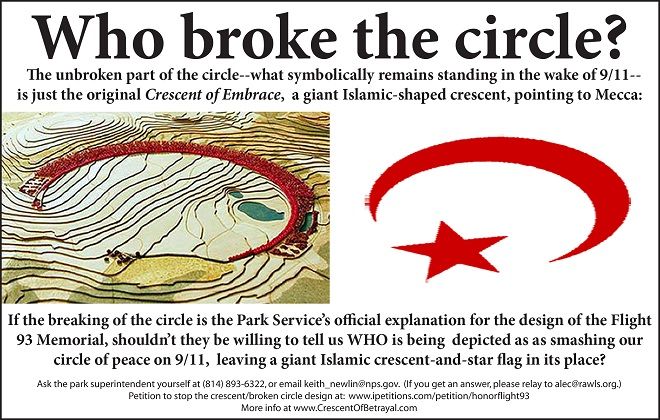 Here is the full page full-color ad that Tom Burnett and I ran in the Somerset Daily American for the 9/11 anniversary weekend 2010 when the Laura Bush and Michelle Obama were both visiting.
Stop the Flight 93 Mega-Mosque!
(Large file warning. For viewing, this copy is plenty large enough.)
As a package deal, I was also able for another $800 dollars to reformat this ad into two parts and run it in successive weeks in a couple local free weeklies, which go to towns outside of Somerset:
Ad 1: "It was terrible"
Ad 2: "Should visitors have to look up at a crescent-topped tower"
Older ad copy below.
If you would like to help fund future ads, just hit the tip jar, and THANKS!
If you want to run an ad in your own local paper, email alec@rawls.org and I will put together an ad together to suit your purpose.
Posters and flyers
Updated 8.5x11 map of the crescent site plan (2-26-08), showing where the different Islamic and terrorist memorializing features are being built: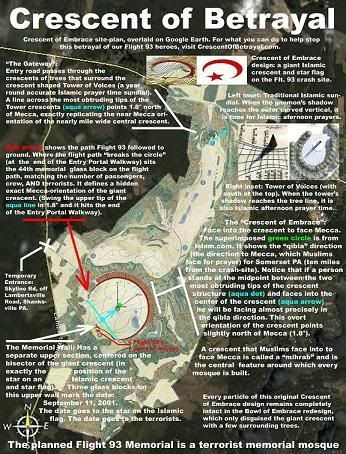 Click on thumbnail for the full high resolution PDF (300dpi). Anyone can print this out and post it as a flyer around town or campus. The high resolution also allows it to be viewed in fine detail in on your computer screen.
Poster (Print at 300 dpi on 11 x 17 paper.)
Has the size and the resolution to provide clear graphical proof of a couple of the main terrorist memorializing features of the crescent design. Comes out great on Kinko's glossy cardstock ($3 a pop). You might have to explain that they have to choose "no scaling" in the "page handling" section of Adobe's print dialog box, otherwise the print software will automatically increase the margins. (Content is same as for the large ad copy posted below, but the ad copy is borderless. Kinko's can print that version too. Just tell them it is designed to print at 300dpi on 11 x 17 paper with 3/4 in borders.)
Half page full-color ad in the Somerset Daily American, 7/31/2008. Announces Tom Burnett's trip to Somerset to try to stop the crescent design. Also announces the schedule for our rally, and points out the obvious terrorist memorializing implications of Paul Murdoch's circle-breaking/ crescent-creating theme.
Major advertising effort
Two color ads in the American Daily, 2-1-08, urge the people of Somerset to storm the next day's public meeting of the Memorial Project and tackle the hijacker!
Ad #1 is a call to action from Tom Burnett Sr. (PDF of actual ad copy here. HTML version with links to documentation here.)
Ad #2 is an exposé of the fraudulent investigation conducted by the Park Service. (PDF of actual ad copy here. HTML version with links to documentation here.)
Printable foam-boards explaining the 4 intolerable features listed in our petition:
Below are PDFs of four foam-boards that Tom Burnett is taking to a Republican convention in Wisconsin at the end of April 2008. Each board illustrates one of the four objections that are highlighted in our petition for a Congressional investigation into the crescent design.
Board 1: The giant crescent

Board 2: It points to Mecca

Board 3: The gigantic Islamic sundial

Board 4: The 44 glass blocks
Three additional foam boards, made up for my August 2nd 2008 trip to Somerset:
The 9/11 date, placed as the star on an Islamic crescent and star flag

Symbolic damnation of the 40 heroes: part 1, the Tower of Voices
Older ads
Published in the Somerset Daily American 8/3/2007 (11.25 x 12, 300dpi, CMYK color).
Ad tells the people of Somerset how the Memorial Project has managed to garner final approval to start building Murdoch's mosque, despite the fact that every Advisory Commission member is fully aware of the factual accuracy of my claim that a person facing into the giant central crescent is facing Mecca (something I learned from one of the Advisory Commission members at the meeting). Starts off with an important CORRECTION: the Johnstown Times Tribune DID publish reporter Kirk Swauger's verification of my Mecca-orientation claim.
Ad published in Somerset Daily American 7/24/2007, wrongly accusing the Tribune Democrat of failing to publish its own fact checking of the Mecca orientation of the giant crescent (Full page width, 11.25 x 12 CMYK color, 300dpi)
CORRECTION: The copy for the above ad has a crucial error in it. I leave it posted here for reference purposes only. DO NOT download and republish this ad!
The above was a great ad BUT, it includes a crucial error that I am going to have to run another half page full color ad to correct. I claim in the above ad copy that the Tribune Democrat failed to publish reporter Kirk Swauger's verification that a person facing into the giant central crescent of the Crescent/Bowl of Embrace design will be facing almost exactly at Mecca. In fact, Kirk's published article does include this bit of fact checking:
His claims seem to be backed up by coordinates for the direction of qibla from Somerset that can be found on Islam.com. When superimposed over the crescent in the memorial design, the midpoint points over the Arctic Circle, through Europe toward Mecca.
For the life of me I can't figure out how I managed to read past that paragraph (it being the one thing I was looking for). And believe me, being able to cite Kirk's fact checking would have been much more useful to me than having to claim that the Tribune Democrat was suppressing its own fact checking. But however I managed to get this wrong, I now have to fix it. Kirk Swauger and Tribune Democrat editor Chip Minemyer deserve high praise for conducting and publishing this crucial bit of fact checking, not the condemnation that I wrongly laid on them.
Ad published in the Somerset Daily American 7/23/2007 (Full page width, 11.25 x 12, CMYK color, 300dpi)
Full color high resolution map of Islamic and terrorist memorializing features superimposed on crescent site-plan, along with text explaining how the Johnstown Tribune Democrat suppressed its own fact checking in order to use known-to-be-misled Flight 93 family members to block for the hijacker. (My Error Theory post about the Trib-Dem's abuse of the family members here.)
This ad will run on the back page of the front section of the Somerset Daily American, July 23, 2007!
You can download this ad and run it in your own paper (expensive), or you can help fund more ad buys by hitting the tip jar:
Small to medium size black and white ad copy (300dpi at 5.75 x 4.75)
If you have some money, this is your chance to help tackle the hijacker. Just download this ad copy and take it to your local newspaper, or send it to some Pennsylvania newspaper, for publication.
At three column widths, this ad cost $550 to run in the Johnstown Tribune Democrat (medium size paper) and $250 to run in the Somerset Daily American. Both charged only a few dollars more to run the ad in their free weeklies as well. The free weeklies, with ad rates of a couple dollars a column inch, might be the best dollar value for getting the word out.
So far the only people who have learned about the Islamic and jihadist features of the planned Flight 93 Memorial are people who get their information online. To reach out to the much larger public that gets its information through the old media, it will take ad buys. (The Pittsburgh Post Gazette has know about the Mecca orientation of the giant crescent since September 2005, but refuses to publish it. See download 3, page 108.)
There is even a chance to start a chain reaction. The ad sends people here to the website, and if they have deep pockets themselves, they can fund more ad buys. Think of it, not just as an ad buy, but as lighting a fire.
If you want to help make an ad buy, but don't want to do it yourself, you can make a donation, which I will use to pay for the couple thousand dollars worth of ads I have already bought out of my own pocket, and to buy more ads.
Large Color Ad Copy (300 dpi at 9.5 x 15.5)
If you have big money, here is a big color ad you can run (based on the 11 x 17 poster).
The ad covers about 80 column inches (depending on how wide the columns in your newspaper are). A medium-size paper charges about $50 per column inch for "general" advertising, and another $600 or so to run the ad in color. That's about $4,500. Larger papers may charge five times as much, smaller local papers about half as much. Open it up to see the impact. If we can run this baby, knockout.
Flyer (Print at 300 dpi on 8.5 x 11 paper. Click anywhere to download.)
Similar to the poster, but does not include as much detail. Your web browser should open this file in a PDF pane with a "save" button at the upper left. There is lots of resolution so go ahead and zoom in for closer looks if you want. The image is sized to leave 1/4 inch borders when printed full size (100% scaling). It does not include a border, but should automatically center in an 8.5 x 11 sheet when printing.
Here's another small to medium size black and white ad (300dpi at 5.75 x 7.75)
Like the Tower-sundial ad, this was made to be a three column ad, but can be run bigger or smaller.
Copyright permission
Anyone can download, print and post or publish this material. The flyer (8.5 x 11) can be printed on any color printer. The graphics details are pretty small, but the file has a lot of resolution (300dpi) and is perfectly readable.
To print the poster (11 x 17 at 300dpi) you will probably have to take or email the file to your local Kinko's or other print shop. Kinko's charges about $1.80 for plain paper copies, $2.50 for matte cardstock copies, and $3.00 for glossy cardstock copies. All look great.
I put copyright notices on some of these downloads, but hereby grant anyone permission to reproduce, transmit, transfer, publish, and even sell reproductions if they want to try, on condition that they do not alter the content without my permission, except to add announcement of a discussion or some such.
Electronically signed Alec Rawls
Free download of Crescent of Betrayal, the Director's Cut.
Order print edition of Crescent of Betrayal.
Crescent of Betrayal, main page
A note about the overlay of the crescent site-plan on Google Earth: To fit the site plan as best I could to Google's composite image, I rotated the site-plan .5° counter-clockwise. This minor discrepancy between the orientation of the site plan and the orientation of the satellite images seems to come from a discrepancy between the satellite images and the available maps of the area, rather than from any manipulation of the available maps. The site plan matches up perfectly with the map included in Appendix B, page 21, of the Memorial Project's June 2007 Final General Management Plan (http://www.flight93memorialproject.org//docs/FINAL2--Appendices.pdf).
All content of this website © Alec Rawls 2007