Check here for news, reviews and things you can do to help insure that a proper memorial is built. (Have a link to post? Send it to: alec@rawls.org. Contrarians welcome.)
For general updates, visit my Error Theory blog.
An appeal for America's churches to witness the truth about the Flight 93 memorial.
Petition
Bill Steiner has put together a petition that is now circulating in Western Pennsylvania. I also put up an electronic petition, and made some flyer-petition combinations. See petition page for details.
Anyone can print them out the paper petition, collect signatures, and snail mail them to Bill (instructions on petition) for delivery to the Memorial Project meeting in early May, 2008. If you don't make that deadline, don't worry, we all will be delivered to subsequent public meetings, and to Congress. Keep sending until the crescent design is stopped!
Tom Burnett Sr. is urging people to contact their Senators and Representatives, asking for a Congressional investigation into the extensive Islamic symbolism in the planned Flight 93 Memorial.
On the publicity front, small talk-radio stations are the one media arm that has started picking up on the release of my Crescent of Betrayal book. See Audio-Video page for links to interviews.
Blogburst
Cao, of Cao's Blog, is organizing weekly blogbursts, where all the participating bloggers post about the crescent mosque every Wednesday. Participants can write their own posts, or they can put up the model post that Cao and I put together and send out each week.
Email Cao if you want to join up. She has lots of cool logos you can add to your sidebar: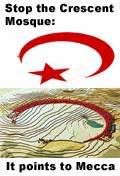 And a special blogburst blogroll script that automatically updates with links to the participating bloggers:
1389 Blog - Antijihadist Tech
A Defending Crusader
A Fine Line Between Stupid and Clever
Al Salibiyyah
And Rightly So
Anne Arundel Maryland Politics
Big Dog's Weblog
Big Sibling
Cao2's Weblog
Cao's Blog
Chaotic Synaptic Activity
Dr. Bulldog and Ronin
Error Theory
Faultline USA
Flanders Fields
Flopping Aces
Four Pointer
Freedom's Enemies
Ft. Hard Knox
GM's Corner
Hoosier Army Mom
Ironic Surrealism II
Jack Lewis
Jihad Press
Kender's Musings
My Own Thoughts
Nice Deb
Ogre's Politics and Views
Papa Mike's Blog
Part-Time Pundit
Publius' Forum
Right on the Right
Right Truth
Ron's Musings
Stix Blog
Stop the ACLU
The Renaissance Biologist
The View From the Turret
The Wide Awakes
Thunder Run
We Have Some Planes
Other Blog Links
Thanks to all those who have helped expose Murdoch's mosque. Here are some who have linked since the design won final approval in July 07:
I will post other links as they appear.
Ad buys
The other thing I am trying to rustle up right now is some people who have deep pockets to place ads exposing what is in the crescent design. Check the downloadable ad copy page. You can coordinate with me about where to place ads, or proceed on your own.
If you would like to expose what is in the planned Flight 93 Memorial but don't have the big bucks for an ad buy, there are also downloadable flyers and posters that you can print out and post.
You can also make a donation to the tip jar, which I will use to pay for the couple thousand dollars worth of ads I have already bought myself, and to buy more ads:
Latest ad copy
At the beginning of August I placed a half page color ad in the Somerset Daily American urging local western Pennsylvania readers to ask the editors of the Daily American and the Johnstown Tribune Democrat to fact check my many explosive claims and accusations. If I am telling the truth, then many members of the Somerset based Memorial Project are privately making excuses for the Mecca orientation of the giant crescent and other untoward features I have pointed out, while telling the public that my claims are false. By lying to the public, they are helping architect Paul Murdoch stab a terrorist memorial mosque into the heartland of America.
If I am not telling the truth then I need to be exposed as a despicable fraud who ought to be shamed out of public life. Either way, the truth needs to be exposed here. The most involved local newspapers need to step up and do their jobs, and there is no reason that this request should be limited to local readers. Feel free to email:
Chip Minemyer, editor of the Johnstown Tribune Democrat.
Brian Whipkey, editor of the Somerset Daily American.
Frank Craig, editor of the Pittsburgh Tribune Review.
Crescent of Betrayal, main page.
Order print edition of Crescent of Betrayal.
Free download of Crescent of Betrayal, the Director's Cut.
All content of this website © Alec Rawls 2007